The benefits of carrying your Glock in the appendix carry position are numerous: speed, retention, concealment and comfort – YES comfort when you have the correct appendix carry holster positioned properly, like the Max X However, SAFETY should be your number one concern when carrying your firearm in the appendix position (or any position for that matter.
Strict adherence to the rules of Gun Safety will keep you safe, but an added layer of safety with no added inconvenience is always a welcome advantage and benefit.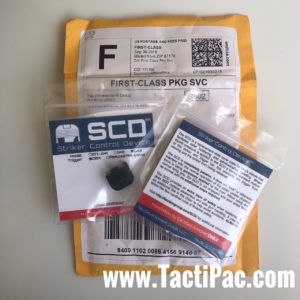 Enter the Striker Control Device (SCD) by Tau Development Group. Also affectionately known as the "The Gadget".
Tau Development was kind enough to send two Gadgets for our review. One for the Glock 19 and one for the Glock 43.
The Striker Control Device (SCD) replaces the slide cover plate on your Glock pistol. When thumb pressure is applied to the SCD it blocks the rearward motion of the striker, which blocks movement of the trigger bar and prevents the trigger from moving.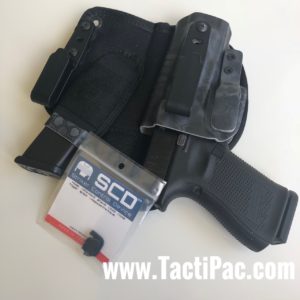 One of the best parts about "the gadget" is that it is completely passive. It does not lock or otherwise interfere with the normal operation of the pistol (unless physical force is being purposely applied by the user). When using any normal firing grip, the SCD is not engaged and your pistol fires as usual with no additional steps needed.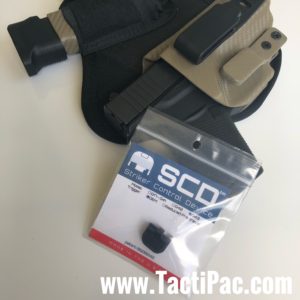 This extra layer of safety may sound familiar to you. The Gadget was inspired by the standard procedures for double action hammer fired guns. Users are taught to keep pressure on the hammer while holstering. In doing so, trigger motion is blocked and the gun is prevented from firing in the event that something (finger, shirt, thumb break, jacket drawstring, etc.) finds its way into the trigger guard.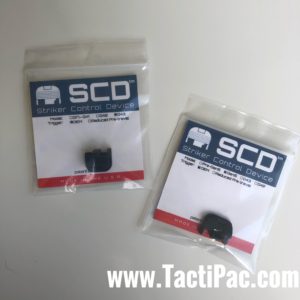 The SCD provides this same extra safe capability for Glock pistols. It gives an extra layer of safety when holstering. It does NOT replace awareness and safe gun handling. It creates an additional layer of safety to help avoid accidents stemming from negligent discharge of a firearm.
ALWAYSfollow the four rules of firearm safety.
ALL guns are ALWAYSloaded.
Neverpoint a gun at anything you are not willing to destroy.
Keep your finger off the trigger until your sights are on target(and you have made the decision to shoot).
Be sureof your target and what is beyond it.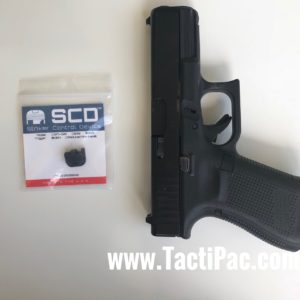 The SCD works with all Glock pistols. There are models available for Gen5 (which includes the 19X, 17M, and 19M), Pre-Gen5 (Gen2/3/4, models 17–41), G43, and G42. The Pre-Gen5 model is available in two variants, one for use with OEM/stock Glock triggers and another for use with aftermarket triggers that reduce pre-travel.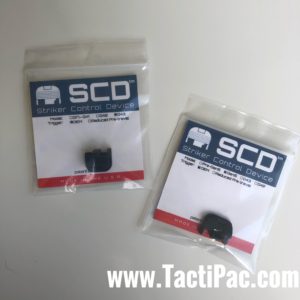 The SCD is CNC machined from 17-4PH stainless steel, has a black oxide finish, and is proudly made in the United States. It is recommended by the manufacturer that you have it installed by a certified armorer only.
For more information on or to purchase the Striker Control Device by Tau Development visit their website at https://taudevgroup.myshopify.com